Frequently Asked Questions And Answers About a Robotic Prostatectomy
Frequently Asked Questions And Answers About a Robotic Prostatectomy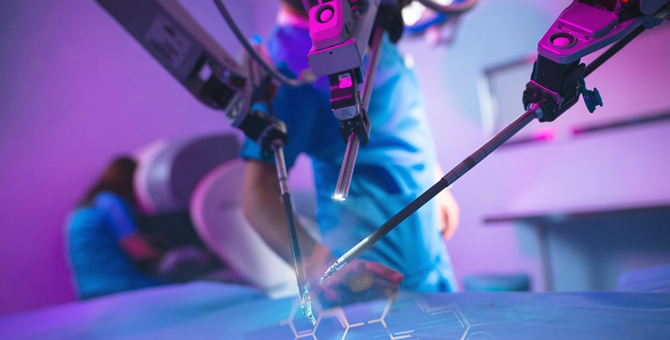 Questions and Answers with Dr. McGinnis and Dr. Zeltser
What is robotic surgery?
Robotic surgery is a laparoscopic approach to the treatment of prostate cancer. The da Vinci robot is used to assist in surgical removal of the prostate by providing three-dimensional vision, magnification and an articulating robotic wrist.
Who was the first to do this in Pennsylvania?
Dr. McGinnis was one of the first people in the nation to perform a Laparoscopic Radical Prostatectomy (LRP) while he was an Attending at Thomas Jefferson University in Philadelphia. He was one of the first physicians in the region to perform more than 100 da Vinci Radical Prostatectomies.
After valuable experience earned at Jefferson and Lankenau Hospitals Dr. McGinnis performed his first Radical Prostatectomy at Bryn Mawr Hospital Monday, July 10, 2006. While this was Dr. McGinnis's first robotic prostatectomy at Bryn Mawr Hospital, he is, in fact, one of the most experienced in the region in this procedure. You are cordially invited to call us and learn about treatment options for prostate cancer, including the latest minimally invasive treatment da Vinci Robotic Prostatectomy.
Why should I choose robotic prostatectomy instead of traditional open surgery?
If your doctor recommends surgery to treat your prostate cancer, you may be a candidate for robotic prostatectomy. This new, less-invasive surgical procedure utilizes a state-of-the-art surgical system that helps your surgeon see vital anatomical structures more clearly and to perform a more precise surgical procedure.
How is laparoscopic radical prostatectomy (LRP) different from open radical prostatectomy?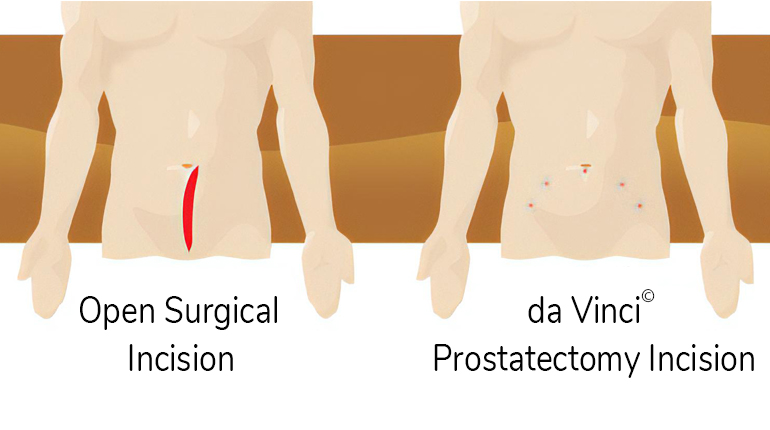 In contrast to open radical prostatectomy, the surgery does not require an abdominal incision, and is thus a much less invasive procedure. Instead, the procedure relies on tiny entry sites or "ports," most of which are no longer than five millimeters. surgeons then insert slender instruments through these small ports, including a computerized scope (the laparoscope), allowing them to view a powerfully magnified image in real time video. The surgeons utilize advanced technology to visualize and remove the cancerous prostate gland. The LRP and open radical prostatectomy both remove the entire prostate, and then attach the urethra directly to the bladder. In excision and reconstruction, therefore, the LRP and open radical prostatectomy are the same.
Is the procedure performed in the same manner as the open surgery?
Yes. The prostate is removed entirely, along with the seminal vesicles.
Am I a candidate for robotic prostatectomy?
If you are a candidate for conventional and have not had previous pelvic radiation and have not had multiple abdominal surgeries then we would like the opportunity to present you with some of the potential benefits of the robotic option.
Anyone diagnosed with localized prostate cancer may benefit from robotic-assisted LRP. However, the decision to have prostate cancer treated surgically revolves around numerous considerations. Variables that enter into preoperative evaluation include age, pre-biopsy PSA, biopsy findings, previous prostate cancer treatments and other illnesses. Robotic Surgery can be done for men of all sizes and shapes. Robotic Surgery can be done in men who have had other operations: appendectomy, laparoscopic hernia repair, repair of abdominal trauma, transurethral prostatectomy (TURP), and in some men who have been treated with previous pelvic radiation.
Does my insurance pay for robotic surgery?
The majority of insurance companies pay for robotic surgery as they would laparoscopic surgery however there are exceptions. Please consult with your carrier to confirm.
Does the robotic prostatectomy remove cancer as well as conventional surgery?
Conventional surgery results in very high cancer cure rates. In the hands of an experienced surgeon cancer cure rates are at least as good as conventional surgery, if not better.
Results of studies on robotic prostatectomy indicate that the success rate in controlling prostate cancer with robotic prostatectomy in patients with localized disease is as good as, or better than, open or laparoscopic prostatectomy. Some studies suggest that robot assisted prostatectomy may allow for earlier return of continence and potency.
What are the benefits to patients who have laparoscopic and robotic prostate cancer surgery?
The benefits are similar between robotic and laparoscopic prostate cancer surgery. Patients are usually able to go home the day after prostate surgery, and can return to daily living activities as early as 7-10 days after surgery. Patients undergoing open surgery generally have 4-6 weeks before they can resume routine daily living activities, generally experience less post-operative pain and discomfort and have a faster recovery. They also experience significantly less intraoperative bleeding. Robotic and laparoscopic prostatectomy uses small incisions and is highly precise; the risk of incontinence is low; and the surgical technique is continuously refined to improve potency.
For most patients, robotic prostatectomy offers numerous potential benefits over open prostatectomy, including:
Shorter hospital stay
Less pain and pain medication
Less blood loss and transfusions
No blood donation necessary from the patient
Less scarring
Faster recovery
Quicker return to normal activities
As with any surgical procedure, these benefits cannot be guaranteed, as surgery is both patient- and procedure-specific.
How safe is the da Vinci Surgical System for radical prostatectomy?
The system is FDA approved for radical prostatectomies. Each da Vinci system is rigorously maintained, tested, and upgraded as necessary by Intuitive Surgical. The robot at the University of Maryland Medical Center is the newest model available, representing state-of-the-art, computer-assisted robotic technology.
What are the risks of Robotic Surgery?
Robotic Surgery is major surgery, done under general anesthesia and carries the same risks of any major operation, including heart attack, stroke, and death. Robotic-assisted laparoscopic prostatectomy is also associated with the specific risks of impotence and incontinence.
Does the robotic prostatectomy surgery require general anesthesia?
Yes, general anesthesia is required. Robotic prostatectomy offers many advantages compared to conventional surgery, but it is nevertheless a major operation.
Will I need to donate my own blood to have on hand during surgery if the need for a transfusion arises?
NO – One of the many benefits of the surgery is minimal loss of blood. Therefore, it is not necessary to have your blood available for transfusion.
The reduction in blood loss reflects the improved view of the operative field, especially behind the pubic bone, home of the venous plexus of Santorini. The improvement in view comes from using a lens that tracks directly into the operative field where the remote human eye has a hard time going. The Robotic Surgery also uses magnification and bright illumination. Overall, this improved view permits a more precise and gentle dissection, which means better control of potential sources of bleeding.
How long does the operation take?
Barring unusual circumstances, plan for the actual procedure to take 1 ½ to 2 hours, although unusual circumstances could increase the time required up to 4 hours.
Does the robot perform surgery by itself?
No. The robot has no independent thought. It just recreates the actions performed by the surgeon at the console in a more precise manner.
What happens during surgery?
During the surgery, you will be given general anesthesia.
You will have 5 to 6 small incisions across the mid abdomen. Through these small incisions, fine laparoscopic instruments are inserted to dissect the prostate gland, seminal vesicles, and vasa deferentia from the urethra and bladder.
Excellent visualization of the prostate gland and the surrounding neurovascular structures is achieved with the use of a high-powered telescopic lens attached to a camera device. Once the prostate gland is dissected free from the bladder, rectum, and urethra, it is placed in a small plastic bag and eventually removed by extending one of the small incisions to accommodate the prostate. The bladder is sewn back to the urethra to restore continuity of the urinary tract.
A catheter is placed through the penis to drain the bladder and allow healing of the bladder-urethra connection. In addition, a small drain is placed near the surgical site. Pre-Operative Routine pre-operative testing is performed prior to surgery.
A clear liquid diet is started the day prior to surgery. To help evacuate any contents in the bowel, patients are instructed to drink one bottle of magnesium citrate on the evening before surgery and administer a Fleet enema the morning of surgery. Patients should receive nothing by mouth for at least six hours prior to surgery.
A 3-D view of the surgical field, including depth of field, magnification and high resolution
Instruments that are designed to mimic the movement of the human hands, wrists and fingers, allowing an extensive range of motion and more precision.
Master controls that allow the surgeon to manipulate the instruments, translating the surgeon's natural hand and wrist movements into corresponding, precise and scaled movements. Robotic arms remain steady at all times and robotic wrists make it easier for surgeons to precisely manipulate tissue and work on the prostate from all kinds of angles.
What happens if there is a malfunction in the da Vinci System?
Recent studies show that the rate of robot malfunction is low, about 1%-4% of the time. In the unlikely event of malfunction, or if the surgeon feels that it is not safe to continue with the robot, the da Vinci system will be withdrawn and the surgery can proceed either via standard laparoscopy or via traditional open radical prostatectomy. The instruments and supplies necessary are kept on hand such that conversion, if necessary, can occur seamlessly.
Can lymph nodes also be removed during the robotic procedure?
Yes.
Will the whole prostate be removed?
Yes. Robotic Surgery removes the prostate, seminal vesicles, ends of the vas deferens, and, depending on oncological considerations, nerve bundles and/or lymph nodes.
Does prostate size matter?
As a practical matter, prostate size is not much of an issue. We routinely remove prostates ranging from 10 to 100 ccs in size.
Can the neurovascular bundles be preserved?
Yes. The neurovascular bundles whose preservation is associated with the likelihood of maintaining erections can be preserved. Nerve preservation does not guarantee satisfactory erections after surgery.
Does it make sense to preserve the neurovascular bundles?
Not in all cases. The issue here relates to the physical proximity of the bundles to areas of malignancy, which can microscopically extend beyond the prostate and into the bundles. The decision to preserve one or both neurovascular bundle depends on an individual analysis.
Are venous compression devices used in this surgery?
Yes. As a precaution against developing blood clots each patient has venous compression devices placed prior to surgery. These are removed when the patient becomes ambulatory.
What can I expect after surgery?
What are the side effects of this procedure?
Will this operation render me sterile?
What sexual side effects are possible after robotic and laparoscopic prostate surgery?
All the answers to these questions are on the Post Operative Care page.